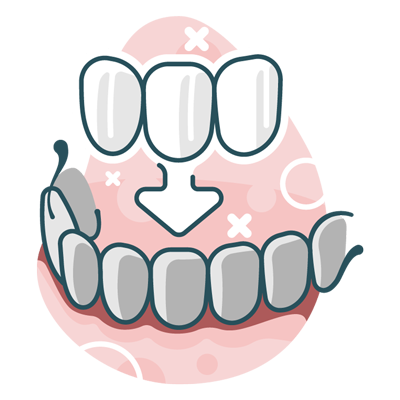 Brian F. Scaff DDS offers multiple procedures for improving smiles. Two of the most popular procedures in the North Austin area are dental crowns and porcelain veneers.
A dental crown covers the entire portion of the tooth that is above the gumline. A veneer is a wafer-thin covering for just the front of a tooth. Veneers are made with several layers of ceramic laminate. Crowns can be made of all-porcelain (ceramic), porcelain fused to metal, or gold. Both crowns and veneers are cemented in place. Crowns and veneers are durable and can last many years, though they are not stronger than natural enamel.
Both of these procedures improve the tooth aesthetically, but porcelain crowns are usually a better solution for a tooth that has been compromised by decay, damage, or a root canal. Veneers can perfect the shape of a tooth, repair a minor crack, cover stains, or straighten the appearance of teeth that are slightly misaligned.
It takes a team of experienced North Austin dental professionals to create durable, natural-looking and perfectly functioning crowns and veneers. Your cosmetic dentist must prep the tooth, create a precision mold, and communicate to the lab technician exactly what is needed.
The role of the dental lab technician is equally important. He/she must meet the precise standards necessary for successful restorations: the perfect shape, the perfect size, color that blends seamlessly with surrounding teeth, and the proper placement in the mouth. The team at Brian F. Scaff DDS provides the highest quality cosmetic dental services and restorations.