Dental Crowns and Bridges in North Austin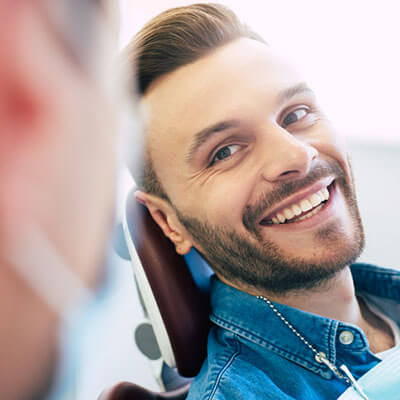 Are missing teeth causing smile grief? Brian F. Scaff DDS is proud to offer fantastic solutions that give patients something to smile about in the North Austin area.
Two of the frequently recommended options for smile improvement are dental crowns and dental bridges.
Dental Crowns Restore Smiles
Dental crowns are essentially a tooth-shaped cover put on an original tooth and are made out of a sturdy material that looks, feels, and functions like a real tooth. There are various reasons why a patient might want a tooth crown.
If a tooth is cracked, chipped, in danger of decay, misshapen, or may break, a tooth crown (or dental crown) is an excellent restoration and cosmetic dentistry treatment.
Dental crowns can also be used to attach dental bridges. Dental crowns are used to top a dental implant. They are very versatile because they effectively simulate and replace a natural tooth.
The process of placing a crown is simple, and Dr. Scaff always makes sure to explain the process to every patient so there are no surprises. As he sees it, every patient is a partner in their care.
One of the best reasons to choose dental crowns is that upon laughing and smiling, no one will be able to detect the dental crowns! They'll only see a natural looking, gorgeous smile.
Fill Gaps with a Tooth Crown or Dental Bridge
Dental bridges are created to replace a gap in the smile where there may be a missing tooth or multiple missing teeth. Dental bridges are connected to dental crowns, so they are sturdy and long-lasting.
They lie on top of the gums but are completely undetectable. When a patient laughs and smiles, bridges fill out the smile wonderfully.
Both dental crowns and dental bridges have the added benefit of filling in gaps between teeth that may cause other teeth to shift. Also, dental crowns and dental bridges require no special care. Simply brush and floss the tooth crown or dental bridge like usual, and visit the dentist regularly.
Get Started Today
Dr. Scaff is happy to discuss the available restorative dentistry options with interested patients, and then let them make the final decision on which option is best. Call Brian F. Scaff DDS, near the North Austin, Round Rock, and Cedar Park areas today. A beautiful, healthy smile awaits!
CONTACT US »

Dental Crowns and Bridges North Austin, Cedar Park, Round Rock TX | (512) 258-9130