Clear Aligners in North Austin
A New, Beautiful Smile Awaits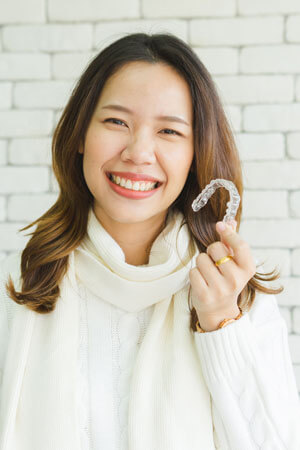 It's been said that a smile is the best accessory to wear. We agree! That's why we are passionate about helping patients achieve a beautifully aligned, confidence-boosting smile. Dr. Scaff offers several services to benefit his patients. When orthodontic care is needed, clear aligners are a popular choice. We use several systems – ClearCorrect and Tréz are a couple favorites – to provide the best outcome for our patients.
This modern-day orthodontic treatment helps align teeth without the harsh appearance and feel of metal braces. In fact, the ease of plastic aligners has quickly become a favorite option among our patients, especially for those that had braces in their teens.
What Conditions Do They Help?
Here are some of the most common orthodontic concerns that clear aligners can address:
Crowded Teeth
Rotated teeth
Overbite and Underbite
Open Bite
Spaced Teeth
Overly Crowded
Have a specific dental concern not listed here? Please contact the practice to discuss it further.
Getting Started
When a new patient comes to
the practice
, the team starts with an examination to understand what each person hopes to achieve. Recommendations for care ensure the best possible plan is created.
Dr. Scaff takes Panorex X-rays, scans, and impressions of the teeth. This information is sent to the lab to create a 3-D image of the patient's mouth. When the image is ready, Dr. Scaff reviews to determine if the desired outcome is achieved. Once approved, the aligners are created, and the plan is outlined for the patient.
Will They Help Me?
When used as instructed, clear aligners give great results! After the initial fitting, trays are generally changed every two weeks. At the end of the plan, if Dr. Scaff doesn't feel the goal has been met, revisions will be made at no additional cost. Retainers must be worn to protect the results received. Patients may use the retainer trays provided, or if requested, Dr. Scaff will place a bonded retainer.
Leave Orthodontic Treatment to the Pros
Many people have tried the kits offered in TV ads for aligners and end up coming to us to do it right, with the money they spent a total waste. Certain instances require modification between the teeth to gain space, and it is not possible to do at home. Do it right the first time by contacting us for your orthodontic evaluation.

Clear Aligners North Austin, Cedar Park, Round Rock TX | (512) 258-9130