Clear Aligners in North Austin
A New, Beautiful Smile Awaits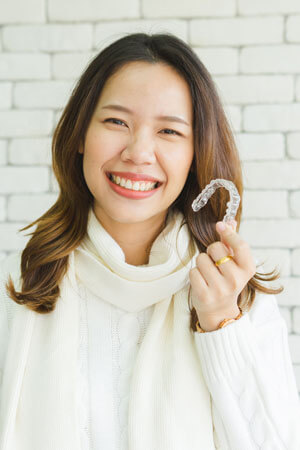 Ready to unlock a straighter smile? Brian F. Scaff DDS has the perfect solution: clear aligners.
This modern-day orthodontic treatment helps align teeth without the harsh appearance and feel of metal braces. In fact, the ease of plastic aligners has quickly become a favorite option among patients.
What Conditions Do They Treat?
Gapped Teeth
Overbite
Underbite
Open Bite
Crossbite
Overly Crowded
Have a specific dental concern not listed here? Please contact the practice to discuss it further.
Getting Started
When a new patient comes to the practice, the team starts with an examination to understand what each person is hoping to achieve. Recommendations for care to ensure the best possible treatment plan will always be given.
Next, X-rays, photographs, and impressions of the teeth are taken. All of this information is used to create a 3-D image of a patient's mouth. From there, the team can present a plan for moving forward and outline exactly how long aligner treatment may last.
Frequently Asked Questions
How often will I wear my aligners?
You will need to wear these aligners all day and only remove them to eat or brush and floss your teeth. Ideally, you'll keep them in your mouth for 22 hours each day, including sleeping in them. Don't worry-most patients find them entirely comfortable.
How often will I get new trays?
These comfortable aligners will be changed approximately every two weeks, gradually making the changes you desire in each stage. The total number of stages will depend on the changes necessary.
Will I need to make regular visits?
During this process, we'll have you stop in to make sure everything is progressing well with achieving your best smile, however, it's much less frequent than someone with traditional metal braces. Most patients enjoy the fact that they don't need to come in weekly or monthly for check-ins.
Learn More Today
Say goodbye to braces and hello to a beautiful new smile! Learn if clear aligners are the right choice today by contacting the practice to learn more.

Clear Aligners North Austin, Cedar Park, Round Rock TX | (512) 258-9130