Oral Cancer Screening in North Austin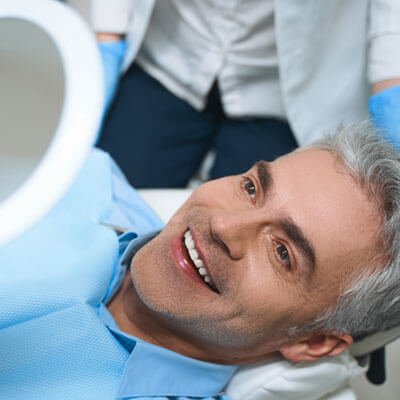 Who is at Risk for Oral Cancer?
While tobacco and alcohol use are primary lifestyle risk factors for mouth cancer, surprisingly, 27% of mouth cancer victims do not use tobacco or alcohol or have any other lifestyle risk factors. Additionally, men tend to be at a much higher risk than women, especially over age 45.
Oral cancer screening is an effective and painless procedure and one that can be accomplished right here at the Austin office near Round Rock. These screenings are the key to early detection and timely treatment.
The Good News
Oral cancer is actually curable in 80-90% of cases when it is caught soon enough, which is why the team provides oral cancer screenings for early detection of mouth cancer.
Dr. Scaff screens for oral cancer to help preserve each patient's health. During exams, he looks for soft tissue abnormalities that can turn into mouth cancer.
Our Commitment
The entire team makes thorough and high-quality work part of the commitment to every patient welcomed into the practice. Dr. Scaff genuinely cares about people, and will do all he can to keep his patients healthy for a long, long time. Oral cancer screenings and education in proper oral and dental health are part of that commitment.
If this information has caused concern, please know that Dr. Scaff simply wants to ensure each patient good oral health. He truly cares about the well-being of all in his practice.
Of course, Dr. Scaff also wants to empower and educate patients to let them decide on their own treatment. He partners with them in every aspect of their oral health. Call today to learn more or schedule an oral cancer screening!
CONTACT US »

Oral Cancer Screening North Austin, Cedar Park, Round Rock TX | (512) 258-9130