Orthodontics in North Austin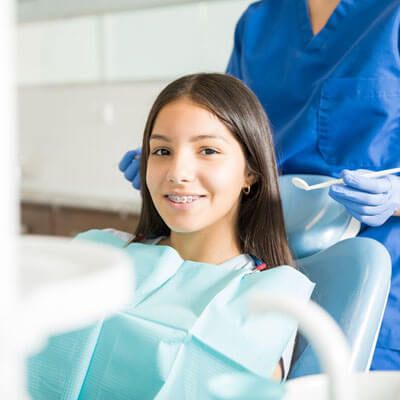 How does a patient know when it's time to consult an orthodontist? How should one be selected? Are braces always required? And the big question – how much will all this cost?
At Brian F. Scaff DDS, the entire team is here to guide patients through all that comes with deciding on the best course of orthodontics. Think it might be time to consider braces? Honest and effective care is always at the forefront of services here.
Candidates for Braces
Patients (children or adults) might be a candidate for braces if they're dealing with any of the following:
Overbite – Occurs when the top front teeth extend too far over the bottom front teeth
Underbite- Occurs when the bottom front teeth extend too far over the top front teeth
Crossbite- Occurs when the upper teeth come down more than just slightly in front of the lower teeth when biting down
Crowding- Occurs when there is not enough space in the mouth to accommodate all the teeth
Gaps/Spaces Between Teeth- Occurs as a result of an accident, injury, lost teeth or extractions which leave open spaces or cause teeth to shift
What to Expect
While the promise of straight teeth is exciting, it's important to understand the scope of treatment before a patient fully commits. Care begins by examining the mouth to determine the best course of care, which may include traditional metal braces or clear aligners.
Then, discussions will begin relating to all options available so that there aren't any surprises. The full financial cost of care will also be presented. As braces generally take months or years to finish treatment, the practice is happy to accept payment plans that can be discussed at a consultation.
When treatment begins, the dentist will cement brackets to the teeth and connect them with a wire that will bring them into proper alignment over the course of the care plan. Every few weeks, the patient will visit the practice so the wire can be tightened. Each time this happens, a beautiful smile gets closer.
Learn More Today
Dr. Scaff and the entire team would love to speak with anyone interested about how braces can positively impact their oral health and confidence. Contact the practice today to learn more and begin treatment.

Orthodontics North Austin, Cedar Park, Round Rock TX | (512) 258-9130