From March Thru June, Whiten Your Smile And 100% Of The Proceeds Go To Children's Charities
When you have your smile professionally whitened any time from March through June, you also change children's lives. How?
Our practice is proud to be part of the Smiles For Life campaign, which raises funds for seriously ill, disabled, and underprivileged children—both locally and around the world. Here's how it works:
Our practice donates our time.
Ultradent donates the materials.
Your smile gets professionally whitened.
100% of your contribution goes directly to kids in need.
Ready to get started? Just contact us! Remember to let your friends, coworkers, neighbors, and extended family members know how they can whiten their teeth while helping children!
What Is Smiles For Life?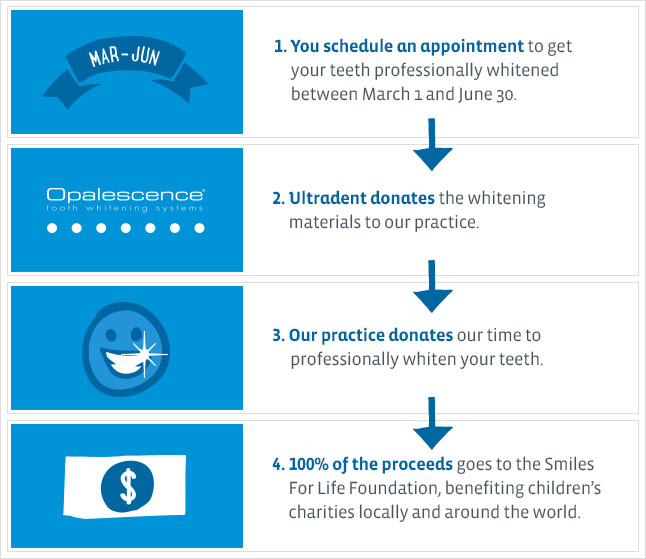 The Smiles For Life Foundation is the children's charity arm of the Crown Council—an alliance of leading-edge dental teams that are passionately committed to promoting oral health, fighting oral cancer, and serving their communities through charitable work.
Ultradent (makers of Boost in-office teeth whitening and Opalescence® take-home trays) donates all of the teeth whitening supplies. Participating Crown Council dentists donate their time to whiten teeth during the Smiles For Life campaign window.
Working together, Ultradent and the Crown Council offer professional teeth whitening services in order to donate one hundred percent of the proceeds to fund kids' charities.
Since 1998 the Smiles For Life Foundation has raised over $30 million, benefiting hundreds of children's charities. When you pay for your teeth whitening, you'll write your check directly to the Smiles For Life Foundation, not to the dental practice.
The balance goes to the Smiles For Life Foundation to be distributed to worthy and approved children's charities across the world, though fifty percent of the donations are earmarked for each dental practice's local charity partner. This enables our office to make an impact in our own communities as well as around the world!
Some of the participating children's charities include the Children's Miracle Network, Children of Romania, St. Jude Children's Hospital, CURE (in Cambodia), Smiles For Hope, and the Kids Cancer Care Foundation.
Help Even More By Spreading The Word!
Whether you choose to have your own smile whitened or not, you can make a huge difference for seriously ill and underserved children around the world by simply sharing this opportunity on your social media networks!
Flash Those Pearly Whites!
Nothing helps you look or feel younger than a beautiful, healthy smile. It's a huge boost to your professional and social life as well!
Nothing makes a more dramatic, immediate improvement in your smile than teeth whitening. Now is the perfect time to whiten your teeth and make a difference at the same time!
Why Professionally Whiten?
Professional consultation ensures both safety and effectiveness. While over-the-counter teeth whitening systems may seem less expensive, many find that in order to achieve acceptable results, they're constantly buying these products to bleach their teeth.
Dentists agree that professional teeth whitening is the way to go for dramatic, long-lasting results. This program results in an added benefit to the procedure. With Smiles for Life, whitening your teeth helps kids in need as well as yourself.
Here's A Chance To Make A Difference
With Smiles For Life, everybody wins! When we whiten your teeth, you save money and get a bright, beautiful smile. Kids get the care they need, thanks to your donation. We can all feel the satisfaction that comes from knowing that the donations put smiles on the faces of many needy children.
Come in between March and June to have your teeth whitened!