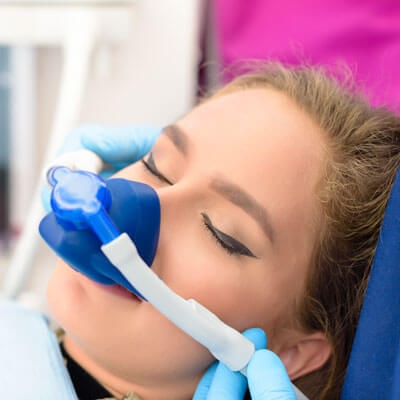 Does your heart start pounding at the mere thought of having a cavity filled? Do you get sweaty palms when you drive by any dental practice?
Many North Austin residents who have improved their smiles with cosmetic dentistry choose to use sedation. Though the terms "sleep dentistry" and "oral conscious sedation" are often used interchangeably, they are not identical.
There are three main types of sedation used in dentistry.
Nitrous Oxide
The first level uses nitrous oxide, or "laughing gas" as it is sometimes called. Nitrous oxide has been used in Austin cosmetic dental offices for generations because it is safe and effective. It goes to work at the first inhalation and relaxes the patient during the procedure, but it wears off quickly after the mask is pulled off. If you need a little help to get through dental treatment, but you don't want to be knocked out cold, nitrous oxide may be your best option.
Oral Conscious Sedation
Oral sedatives don't start working as quickly as nitrous oxide, but they help most patients achieve a deeper level of tranquility. These medications, however, do not usually produce complete unconsciousness. Thus, oral sedatives and nitrous oxide are used in "conscious" sedation. Two common sedatives used by Cedar Park dentists are diazepam and triazolam.
IV Sedation
IV sedation uses medications similar to those used in surgery and results in true "sleep dentistry." Most patients are completely oblivious to what is going on in their mouth. IV sedation can be used for procedures such as root canals, wisdom teeth extractions and multi-procedure smile makeovers.
Brian F. Scaff DDS does not offer IV sedation, but oral conscious sedation and nitrous oxide are almost always all the sedation North Austin dental patients need. If more sedation is needed, our team can refer you to a sleep dentistry specialist.