Dental Implants in North Austin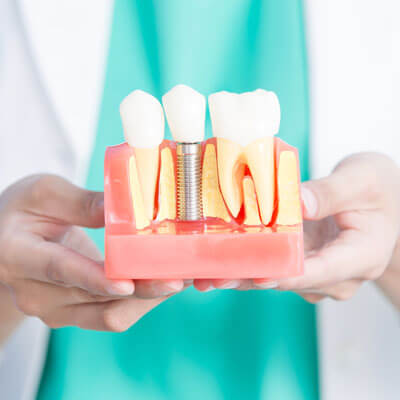 When a patient is unhappy because of missing teeth, implants can often be the perfect solution.
Tooth loss can keep people from smiling or having their picture taken, but it can also affect them physically. When a person can't chew on one side of their mouth, it's normal to compensate by using the other side more. The remaining teeth sustain more wear and tear. This can affect the jaw and even the look of the face.
Dental implants can take a person from missing teeth to a full smile that looks and feels entirely natural. Implant dentistry is astounding!
Permanent Tooth Replacement
Dental implants are a permanent way to replace missing teeth and involves visiting Dr. Scaff over the course of a few months.
First, the mouth and jaw will be prepared to hold the implant, which will be placed at a later date. After placement, the patient will return for follow-up visits to ensure that the gums are healing well and adapting to the new implant. Dr. Scaff also wants to make sure that the patient is comfortable and loving their new teeth.
There are two main phases of the tooth implant procedure: placing the tooth implant and restoring it afterward with a crown, bridge, denture, or other restoration. Dr. Scaff performs both phases of implant dentistry, so patients can complete the treatment in the office!
What exactly does that mean? When a patient comes to the office for implant dentistry, they experience the following:
Continuity of Care: The same doctor diagnoses the specific situation, places the tooth implant in the ideal location, and places the restoration after the tooth implant has integrated with the jawbone. There is no need to coordinate with another provider.
Convenience: When a patient chooses to do their procedure with Dr. Scaff, they only need to schedule with one office to receive treatment from the doctor that patients in North Austin and the surrounding area have trusted for more than three decades.
Cosmetic Dentistry: Dr. Scaff is a skilled cosmetic dentist who can visualize what a patient's beautiful smile will look like at the conclusion of their treatment. This helps guide the rest of the procedure, including the placement of dental implants.
Dr. Scaff may refer more complicated cases to an oral surgeon, but will see to it that everyone is well cared for.
One of the most remarkable implant dentistry procedures is called the All-on-4® treatment concept, which combines dental implants with dentures.
With the All-on-4® treatment concept, patients come into the office for a consultation. The caring, knowledgeable team will work with each individual to create a treatment plan involving only four implant posts. These posts will support dentures designed just for them!
The denture apparatus can be fitted the very next day. No need to wait the usual 3-6 month recovery time. Within 24 hours, patients will have a full, complete smile.
Whether a patient is only missing one tooth or needs to have their whole smile replaced, dental implants are a great choice. It's simply amazing what implant dentistry can achieve!
Who is a good candidate for dental implants?

Almost anyone missing a single tooth, multiple teeth, or all teeth are candidates for dental implants. Talk to your dentist about your specific needs.
How much do implants cost and does insurance cover the cost?

In general, the cost of replacing a single tooth with a dental implant is almost the same as replacing it with a regular fixed bridge. Dental implant treatment may qualify for some insurance coverage, but situations vary. The cost will vary by patient needs, bone quantity, and region. Your dentist will make an assessment based on your unique needs.
Book an Appointment Today
Contact the office to get started; a beautiful, healthy smile is waiting. Call today!
CONTACT US »

Dental Implants North Austin, Cedar Park, Round Rock TX | (512) 258-9130